It is called The Adventures of the Young Marco Polo, Marco Polo, and Die Abenteuer des jungen Marco Polo, but it is all the same; The Travels of the Young Marco Polo. It is already a hit Series in Europe and it has arrived in North America. With season 2 going to be out in the near future it is a good time to catch up with Season 1, or watch and learn about the series the first time.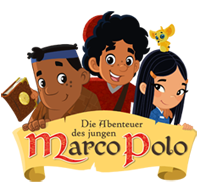 Meet Marco Polo and his friends, travel to Middle Age Europe and Asia. Disscuss the concept and fan made stories of Young Marco Polo. Talk about characters that is connected to the series example Sinbad the Sailor, Ali Baba, and Robin Hood. Learn about various cultures of the time.
Community content is available under
CC-BY-SA
unless otherwise noted.